Guerretour: FreeStyle, customized tours throughout central Chile
GuerreTour is a small and friendly tour provider that specializes in customizable private tours throughout central Chile with an English and Spanish speaking guide, using a Hyundai H1(10 pax), WiFi available.
Below are a number of example tours to destinations that have proven to popular within the reagion.
Each one of these is fully adjustable to meet your needs or desires.
Prices are therefore impossible to state as they depend on the size of your group and what you would like to do or see and when you would like to do it.
Services we provide:
Central Chile tours
GuerreTour organizes private customized tours mainly in the Metropolital and fifth regions, details to which are provided in the tabs below.
Airport shuttle service (Central Chile)
Private shuttle service Airport-Hotel, Hotel-Airport. exclusive service that will be waiting and will take you where you indicate, without additional delays.
Cruise passengers
Arriving in Valparaiso, Chile on a cruise?
Make the most of your limited time and contact us for the tailor made tour of your dreams.
All major credit cards excepted!
Santiago City Tour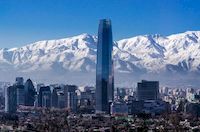 Our city of Santiago de Chile is a city that blends its colonial heritage with the modernity of a city in full swing. We invite you to know, visiting the main tourist attractions such as Cerro Santa Lucia, where Santiago was founded on February 12, 1541, majestically located in the middle of the city. The Church of San Francisco (1572-1618) which desde1951 has been considered National Monument. The Moneda Government Palace, Plaza de Armas (main square), the oldest neighborhood in the city where we will meet with the Central Post Office, the Municipality of Santiago and the Cathedral of Santiago (1748-1800),
Continue our journey bound for San Cristobal hill (where we will go if they want at cost) then we continue to the Sculpture Park, Bicentennial Park. ending our tour in Costanera Center (the tallest tower in South America) or return to the hotel.
Valle Nevado Tour
Valle Nevado, prestigious ski resort located at 3000 meters hosts major championships like snowboarding, performed annually.
We start from your hotel at approximately 09:00 hrs, where we will take towards the Andes, through a path 40 curves. Once up, we can see Santiago from the heights and to breathe fresh mountain air. Then we will have enough time to play, walking, skiing and / or lunch (on behalf of passengers) time. In the afternoon return to Santiago
Valparaiso - Vina del Mar - Renaca
We began to pick up from your hotel in Santiago from 09:00 am. approximately on a journey of 120 km. to the Central Coast. Where you appreciate the beauty of the known valleys production of white wines.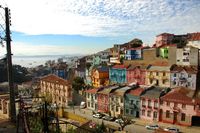 Arriving at Valparaiso (Legislative Capital and main port of our country), declared a Cultural Heritage Site by UNESCO. It will surprise us with its picturesque houses nestled in the hills.
Visit the main attractions of the city : Victory Square, Plaza Sotomayor, Monument to the Glorias Navales 21 de Mayo (will raise this viewpoint if they wish) will also hike the Cerro Alegre. Optionally we can embark for 30 to 45 minutes to have a majestic view all optional Valparaiso.Un hills that can really make a difference on this tour.
We continue the tour to Vina Del Mar, known as the Garden City. Here we can see the Flower Clock, the Casino, and then go to Renaca, where we will stop for lunch (on behalf of passengers) and then make a short walk along the beach.
Before returning to Santiago finishing in your hotel around 17:00 hrs. - 18:00 hrs.
Concha y Toro vineyards tour
Here is born more than 100 years the largest wine company in our country, which offers two alternative tour:
Traditional Tour:
Tourists will be greeted by a guide who will invite you to enjoy a panoramic view of Pirque vineyard with a glass of wine for you to soak aromas and flavors that arise step by step in this centennial warehouse.
Then begins the walk through the old park, going back in time to appreciate the Casona de Pirque, residence of the Concha y Toro family.
In the vineyards of Pirque you will know the development of the vines, cultural and technological management who are responsible for quality performance. To know the old facilities and witness the legend, Vina Concha y Toro offers a glass of Cabernet Sauvignon.


Tour Marquez:
After the tour came to Concha y Toro, pass a special room. Where they will be greeted by a wine expert to guide them in aromas and flavors of the best wines of Concha y Toro with a cheese board. thus ending this wonderful experience.
Your request will be handled directly by a representative of GuerreTour, no automated systems!.
* indicates required fields!
Tip! you can switch tabs without resetting the form.