"Travel Information for Patagonia, Chile"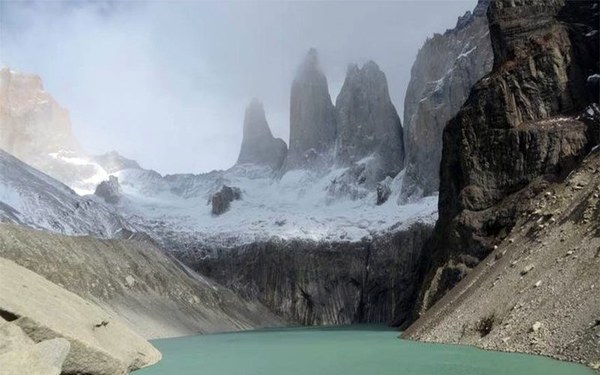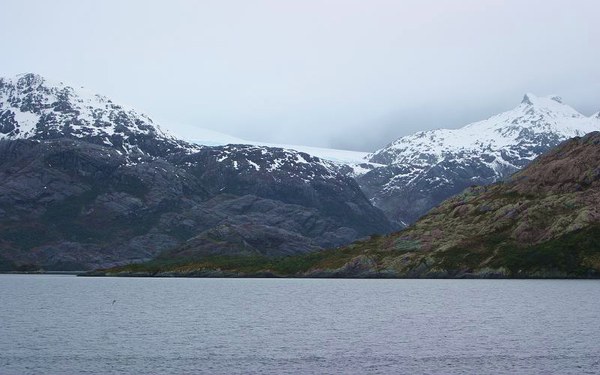 This is Chile's southernmost region. Located some 3,000km (1,900mi) south of Santiago, and is slightly larger than England, without including the 1,250,000 sq km of Chile's Antarctic Territory, and has a population of about 150,000 people.
It contains some of Chile's most fabulous scenery, which includes world-famous Torres del Paine National Park, the Strait of Magellan, Tierra del Fuego, Cape Horn, the Patagonian channels, huge glaciers and ice caps, and hundreds of lakes.
Patagonia has an area of approximately one million square kilometers, three quarters of which are Argentine and a quarter is territory of Chile. Located on the Chilean side, is the almost unexplored territory of Aysén. Its lands flooded by the ocean and its rainy and cold weather have made up a region of innumerable channels, fiords and narrow gorges. Magallanes (Magellan's region), the southernmost region in the world, covered by ice, steppes and forests, is considered a land of extreme beauty and the source of daily challenges for its people … more
Divided in two well defined areas: on one hand North Patagonia, located between Puerto Montt and Villa O'Higgins, (in Aysén's Region) and on the other hand South Patagonia, (Region of Magellan), where the city of Punta Arenas, the capital of this region, can be found. From this point is possible to gain access to Torres del Paine National Park, to Bernardo O'Higgins National Park, to Tierra del Fuego (Land of Fire), to Estrecho de Magallanes (Magellan Strait) and Beagle Channel. Punta Arenas is also the starting point to connect with the Falklands and Antarctica. This southern Chilean city has a glorious past as a provisioning center for the vessels traveling between the two oceans Pacific and Atlantic. Nowadays it stands out for the oil exports, the success in the sheep farming and exports of sheep's wool and meat. Another place of interest is Puerto Natales, a must for tourists who travel between Perito Moreno and El Calafate on the Argentine side of Torres del Paine, Campo de Hielo Sur (Southern Patagonian Ice Field), el Seno Otway (Otway Sound) with its colony of penguins and Bernardo O'Higgins National Park. But there is no doubt Torres del Paine National Park, declared Biosphere Reserve by UNESCO, is the most interesting tourist place.
Places of interest in North Patagonia are the Carretera Austral (Southern Highway), with a length of 1,200 kilometers crossing rivers, cascades, mountains, cliffs and forests of larch and other indigenous varieties which offer a landscape of unforgettable beauty in places such as Parque Pumalín (Pumalín Park), with 42,000 acres of native forest protected by a privately owned organization and the amazingly beautiful General Carrera Lake, which crosses the border line between Argentina and Chile.
Cities in Patagonia
Highlights in Patagonia
Lago General Carrera
It is the second largest lake in South America and is shared with Argentina (named "Buenos Aires"). Thanks to the Northern Ice Field, this zone has a surprising warm and sunny microclimate. The limestone formations called Capilla de Marmol (Marble Chapels) are an extraordinary formation bored by the turquoise lake water.
Torres del Paine
It is one of the most beautiful places in the world. The special flora and fauna and the uneven topography becomes a special destination for visitors.
One of the main attractions is the Paine massif from granitic origin, the Cuerno del Paine mountains and the Las Torres biosphere Reserve, the place has an incredible vegetation of coigue and lenga forests and different species as the calafate, the coirn, the steppe and the mata barrosa, as well as, on the other hand, condors, culpeos, guanacos, rheas, cougars, and gray foxes.
Its fantastic water resources allow for kayaking and rafting whereas on higher grounds, mountaineering and hiking are favored. The hiking trails offering a further option to exploring the park. These trails are protected by the Chilean forest authority CONAF.
Package tours that visit the area
Chilean Patagonia Option A EKA 042
07 days / 06 nights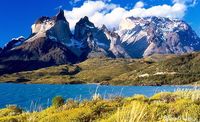 The highlight of this trip is Chile's southern point and the nearby Torres del paine National park.
Visits: Santiago - Punta Arenas - Puerto Natales - Torres Paine National Park
Chilean Patagonia Option B EKA 043
07 days / 06 nights
The highlight of this trip is Chile's southern point, Torres del paine National park as well as the Balmaceda and Serrano Glaciers.
Visits: Santiago - Punta Arenas - Puerto Natales - Torres Paine National Park - the Balmaceda and Serrano Glaciers
Charming Chile EKA 071
12 days / 11 nights
This tour will lead you through the highlights of southern Chile, from the lakes region to the southern tip of Patagonia.
Enjoy the sights of Volcanoes, Glaciers, rapids, Waterfalls, the towers of Paine and much more. Cities: Santiago - Puerto varas - Puerto Montt - Frutillar - Puerto Natales - Punta Arenas