Hotel Valle Nevado in the Valle Nevado ski resort, Central Chile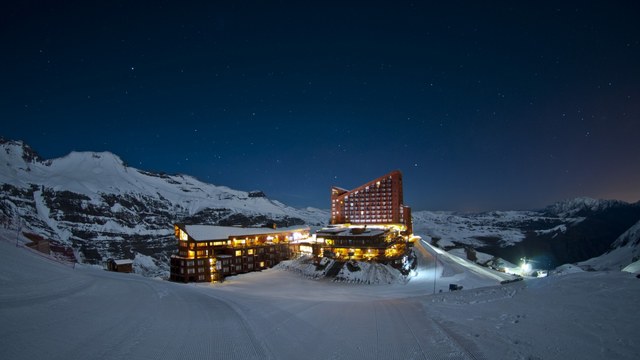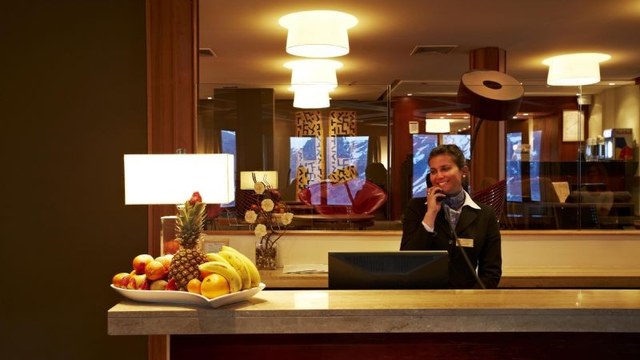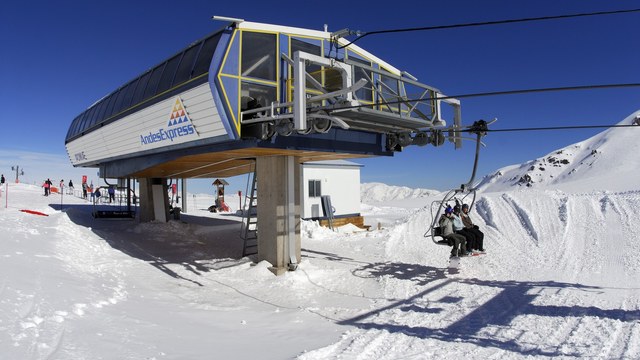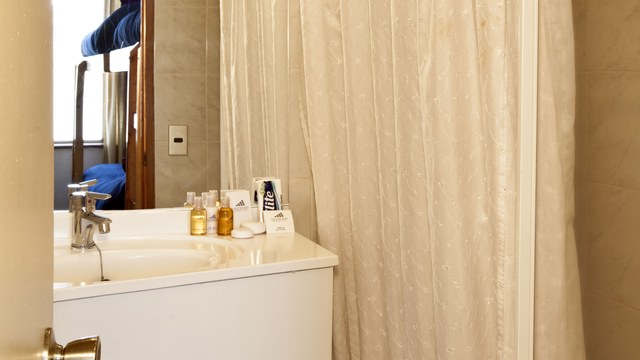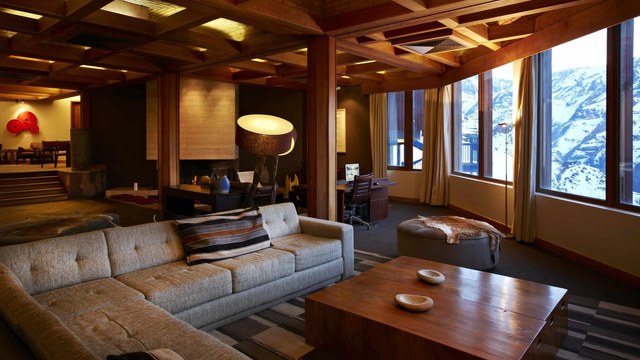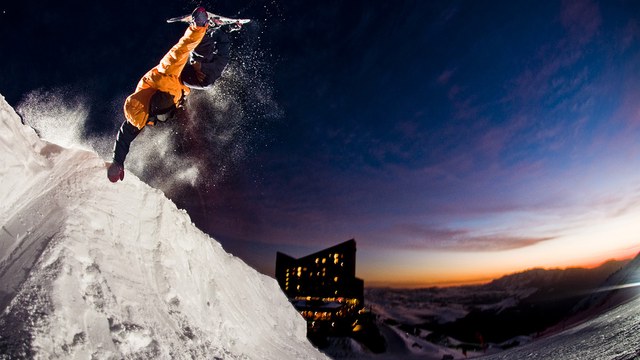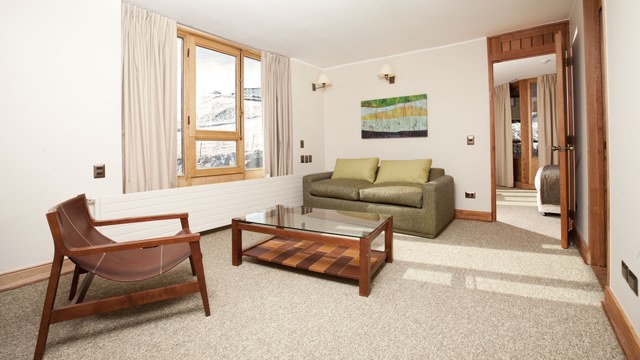 The Hotel Valle Nevado is this resort's most exclusive lodging option, offering high-end amenities and a personalized service.
The hotel was totally renovated in 2010 and offers ski-in/ski-out access, outdoor terraces to soak up the stunning panoramic views of snowy peaks, and lots more.
Services include day care, in-room Wi-Fi, a fitness center and spa, and Bar Valle Nevado, the newest, most elegant addition to the resort's nightlife, serving premium wines and cocktails.
This hotel is also home to the resort's gourmet restaurant La Fourchette, which serves delectable Mediterranean cuisine and fine Chilean wines.
Valle Nevado has the most extensive ski terrain in South America, covering some 7,000 acres. The skiing and snowboarding is suitable for all levels and the instructors are also qualified to give classes to those with special needs.
Hotel Rooms
There are 53 spacious rooms all with a terrace and direct access to the slopes.
All rooms have views of the slopes and mountains, with a private balcony and terrace with direct access to the slopes.
There are two classes of rooms:
Suites (452sqft) - they have a master bedroom with a double bed plus a living / sitting room and 2 extra sofa beds. Each suite has a balcony.
Standard (334 sqft) - have a bedroom with 2 X single beds plus 1 extra sofa bed.
Facilities
The facilities of the hotel and the resort are luxurious.
These include:
1st floor cafe, lounge, library room, free wi-fi and access tocomputers
Kids area with a Wii
Access to the gymnasium and heated outdoor pool
Children's daycare (3 to 7 years old)
Day spa - one basic massage is included, other treatments are available for a charge
Included in the rates
Lodging at Hotel Valle Nevado
Full board:

Breakfast in La Fourchette restaurant, lunch in La Fourchette,
Buffet between 13:00 - 15:00 hrs and dinner, subject to reservation in La Fourchette restaurant, Don Giovanni or the Mirador del Plomo restaurant.
The first night's dinner is in La Fourchette.
Drinks are not included.
Lunch is not included on check-in nor check-out days

Unlimited access to lifts (valid until checkout day).
Welcome drink. Every Saturday from 18:30 to 19:30
Apres Ski at Bar Puerta del Sol from 17:00 to 18:00 pm.
Access to fitness centre. Sauna, exercise room, aerobics & stretching lessons available.
One full-body massage per person (basic treatment 25 mins) for reservations of 7 nights or more.
Not transferable, ages 11 upwards only, must be used during stay and is subject to availability, between the hours 10 am to 4 pm.
Outdoor heated pool, games room, pub & planned activities
Children's daycare (3 to 7 year old's).
Hours 9 am to 1 pm and from 14:00 to 18:00 (doesn't include lunch).
Ski storage
Free wifi in the rooms and public areas (lobby, bar / lounge and restaurant La Fourchette).
Not Included (but available for an extra charge)
Transfers
Drinks & alcoholic beverages during dinner
Ski & snowboard rental
Snow school
Baby sitter service - subject to availability
Medical clinic
Mini bar
Room service
Telephone calls
Laundry
Lift tickets for nearby resorts.
Heli skiing
Massages (apart from the initial complimentary massage)
Check in – Check out
Check in
4pm. If your room is available earlier than 4pm you may check-in before this time. If not, you may leave your luggage at the front desk and enjoy a day of skiing until the room is available.
Check out
10am. Please check out before this our. If you check out later than 10am you will be charged an additional night.
Terms & Conditions
Early check-out
Guests who check-out before their intended date will lose the remaining balance of their reservation.
Late arrivals:
Guests who arrive one to two days after their reservation date do not receive a refund for unused nights (please see exceptions for unanticipated road closures). Missed nights cannot be made up at the end of the stay.
Extras Charges:
Additional services offered by Valle Nevado are in Chilean pesos and include the IVA tax (19%). However, if guests are foreigners or non-residents of Chile the total bill for additional services is converted into dollars at check-out and exempt from IVA if paid in dollars or with a dollar credit card.
Lack of snow:
Valle Nevado features a modern snow-making system, however if all lifts are closed due to a lack of snow, Valle Nevado will reimburse 100% of each day the resort's lifts are closed. Alternatively, paid reservations can be credited for other nights during the 2015 season; in the event of rate differences due to alternative seasons the unused nights will be credited as a deposit toward the future stay.
Road closure:
The road to Valle Nevado is maintained by the Ministry of Public Works and is the sole responsibility of this ministry to clear the road in the event of snowfall. Valle Nevado voluntarily assists the Public Works department in snow removal, but is not responsible for the state of the public road.
Valle Nevado
will provide 2 free lift tickets to 2015 Mountain Collective spring pass purchasers, no additional days at 50% off.
Top tier pass
Holders from Mountain Collective resorts (i.e. an Aspen Premier pass holder) receive 50% off lift tickets, no cap.
Valle Nevado
Pass holders and employees receive up to 5 days at 50% off for winter 2014-15 at any Mountain Collective destination.
Policy following a road closure due to snowfall:
Guests who are in Santiago and cannot reach Valle Nevado due to road conditions are responsible for their own expenses and lodging in Santiago as long as the road remains closed. Unused nights will be credited toward a future stay at Valle Nevado during the 2015 season, or may be used toward paying for additional services at the resort.
Guests who cannot leave Valle Nevado due to closed road conditions must pay the full price of the additional night at the resort. Any additional nights beyond the first night receive a 50% discount.
Valle Nevado offers helicopter service to the Santiago airport when weather conditions permit, and according to availability. Guests are responsible for the cost of this service.
Using our online forms will bring you in direct contact with the person or representative that will be responsible for handling your request. They will respond with prices and/or times as appropriate and you will have the option to finalize your request directly with them.
No booking machine, a real person and no obligation until you are satisfied!
* indicates required fields!
Tip! you can switch tabs without resetting the form.