Five star hotel Plaza San Francisco in Santiago centre, Chile
Welcome to Santiago! Our Hotel is located in the center - downtown - Santiago, steps from the Metro de Santiago and the major tourist attractions of the city such as the Government Palace, Plaza de Armas, Museum of Fine Arts, San Francisco Church between other; Hotel Plaza San Francisco invites you to enjoy a unique stay with the feeling of being at home, but in the comfort of a 5 star Hotel in the center of Santiago. Hotel Plaza San Francisco is renowned within the hotel deals in Santiago for its excellence in service and quality of its staff.
Highlighted by SERNATUR (National Tourism Service) as the only 5-star sustainable city center hotel within the range of Hotels in Santiago.
We invite you to enjoy our 146 spacious and comfortable rooms, which when included in book price also enables access to our heated pool, sauna and gym.
Guests will enjoy the taste of Chile in Bristol Restaurant, Best Restaurant Kitchen Chilena 2013, together with the best service. We have 16 highly equipped rooms for meetings and conferences, parties, weddings and events that are required to perform successful and quality you are looking for.
Plaza San Francisco
Fitness Club:
Our Fitness Club offers a full fitness center, dry sauna, heated pool with wave machine and sanitized with ozone; four massage rooms acclimated to provide our customers with a moment of total relaxation and a full service salon.
Our fee includes access freed gym, heated swimming pool and sauna, you can access other services additionally hiring them.
If you're looking for James and a complete gym you can hire different plans we have for you, all with access to the heated and released sauna.
Restaurant & Bar Bristol:
Best 2014 Modern Chilean Cuisine Restaurant
Recognized as the "Best Restaurant 2014 Modern Chilean Cuisine" Restaurant Bristol offers unique preparations that blend the best of our land. We have a menu designed to offer the best of Chile through entrees, soups, main dishes meat or fish and delicious desserts.
Chile has great gastronomic resources and our Executive Chef Axel Manriquez and his kitchen brigade care to give life to each dish, harmonizing colors and flavor.
We work hand in hand with small farmers who provide us with unique products and enriched to be prepared by our kitchen, while allowing a responsible country-level work.
Located in central Santiago, when entering Restaurant Bristol you will find a magical place, set in a classic English style, elegance and tranquility with a warm service by our team achieving the perfect mix for your business lunches or family dinners.
Events
We have a small convention center 16 highly equipped meeting rooms for your business meetings, parties or dinners a success.
Our staff is specialized in the event area so your guests feel, and enjoy quality and personalized service.
Hotel Plaza San Francisco is located in the heart of Santiago, on the main road and public transport to the subway of Santiago, so the location and easy access allow your guests or employees can attend without difficulty.
Rooms:
Junior Suite
Beds: 1 King
Standard Twin
Beds: 2 Queen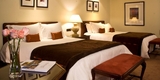 Superior King
Beds: 1 King
Superior Twin
Beds: 2 Queen
Standard King
Beds: 1 King
---
All rooms have the following Amenities:
Internet Connection
Auto air conditioning equipment and individual
Cable TV
Safe in the Room
International direct dialing
Sound Insulation
Courier
Room Service
Bathroom amenities
Fitness & SPA
Laundry
Mini Bar
Clock Radio
Fire Alarm
Hair Dryer
Access to a business center
The Weather
---
Using our online forms will bring you in direct contact with the person or representative that will be responsible for handling your request. They will respond with prices and/or times as appropriate and you will have the option to finalize your request directly with them.
No booking machine, a real person and no obligation until you are satisfied!
* indicates required fields!
Tip! you can switch tabs without resetting the form.